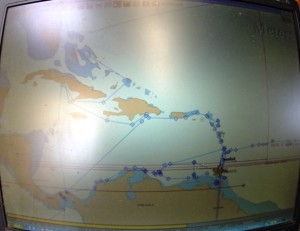 The time is coming when we have to decide on next steps. This involves so many issues and of course draws upon our experience so far. The key question is 'do we go through the Panama Canal?
The key issues are;
Distances to sail to return to the UK (c.39,000nm) versus the potential experiences en route?
Education & A-levels?
Is the ship fully fit for a maintenance free passage to New Zealand?
Security? It's one thing to read about being permanently cautious, not going out at night, staying in crowded public places and so on. But it is quite different to live that life! In some locations freedom is restricted to marina complexes only.
Potential delays – this is measured in years and for the final 39,000nm a few issues could set us back one or two years easily.
Financial. Clocking up mileage, we have learnt, costs. Learning how best to improve the ship for offshore sailing, ongoing wear and tear, breakages and sundry parts add up quickly. Then there are future costs for the Panama Canal, Galapagos, haul outs & anti-fouling.
Timing; the need to get through Panama and push on to New Zealand quickly to stay with the seasons. And if not Panama, the need to plan to stay out of the hurricane zone from end May.
Opportunities back home.
So currently we are discussing, and it will be a long discussion, what we want to do with our time in the months ahead.