Sorry for the lack of posts. We have needed a lot of downtime to recover from the crossing. For the first 3 nights we would wake up every 3 hours ready for our watch!
We have been staying in Rodney Bay marina waiting for our tender to be repaired which our retractable bow thruster sliced a hole in. Without a tender we are unable to go to anchor or leave the island.
Just before Christmas we sailed with Duplicat for the first time on a catamaran then anchored in Rodney Bay and swam.
Christmas Eve saw a devastating storm which damaged roads, bridges, washed away houses and sadly 6 people died. The storm raged for 12 hours in the marina nd we had never seen thunder and lightning like it. Instead of a bbq on the beach we spent Christmas with a whole bunch of boats taking over the Bread Basket restaurant which was closed. We had a bbq christmas lunch under their covered verandah.  It was a lovely day.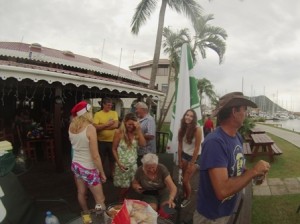 New Year's Eve day our great friends Vicki and David arrived in Castries on their cruise ship. We went to Pigeon Island beach on a water taxi and had a wonderful local lunch. It was fantastic to see them. The picture shows us buying fruit and a fresh coconut filled with rum.
New Year's Eve saw us celebrating at Spinnakars restaurant on the beach with Mike, Michelle and Juan from Great Escape. We had turkey with all the trimmings including brussel sprouts and Christmas pudding. Followed by fireworks on the beach.
Christmas St Lucian style has been different and we feel suitably chilled.
Today we pick up our repaired tender and we can start to plan our Caribbean adventure.