Bequia – yachting heaven!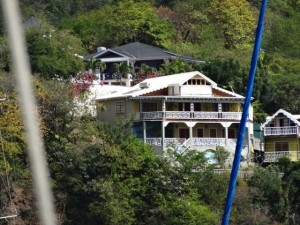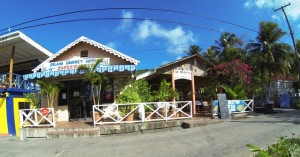 It was rough during the night between St Lucia and St Vincent with about 22kn blowing in from the Atlantic. In the lee of St Vincent we motored in the calm before rounding the bottom of the island. We rolled into Bequia on a close reach in 26kn with waves crashing over the bow.
The anchorage is huge in Admiralty Bay and we headed per the guide to anchor off Frangipani Hotel at the head of the bay. But we found the whole area dominated by buoys so we eventually found a spot to anchor about 1/4 mile out of town. We then found ourselves surrounded by friends; Calypso, Fantasea, Wasabi, Millport and many others. Misfa eventually turned up and we caught up with Beyzano whose blog we had been reading for the last two years.
Now Bequia has got this whole yachting thing right. Dinghy docks all over the place, waterfront watering holes, a really cute town, a few boat boys that don't hassle, diesel and water brought to your boat, endless amounts of lobster, clear turqoise waters and great beaches. The wind still whips through the anchorage at a constant 20kn plus and we had a few squalls.