Outboard meets custom bike…and likes it!
What can you do when your outboard meets with the custom bike world and starts calling for a make-over? The outboard cover has been through a few different guises. It first arrived in it's plain old factory silver, then we took it to a graduated purple pink with the name Aditi on the side before going incognito for security reasons ahead of arriving in the Caribbean. The old 1-pack epoxy paints and clear coat cracked up over an 18 month period so we are now morphing to a new design using professional auto paints.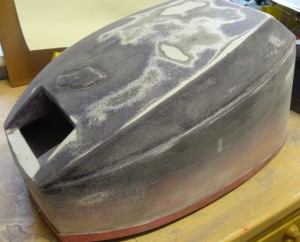 Having sanded and filled and sanded and filled the cowling it was a question of where to take it. We wanted a more durable finish so we went with a 2-pack epoxy primer followed by a watercolour candy purple (a match for a chinese made motorcyle that we have never heard of before) with pearlescent white detail. The airbrush detail was horrendous to achieve due to the quality of the airbrush itself (oh for an Iwata – but we have to remember we are sailors not painters). The end result is OK and not so attractive that it makes it too desirable. With a top coat 2-pack epoxy finish it looks rejuvenated and ready to go again.