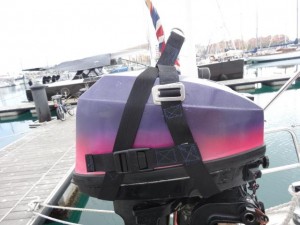 We wanted an engine sling for hoisting our 15hp outboard. Of course resources are resources and they are scarce so we keep almost everything that we find which is durable. In this caes we have carved up a couple of old Crewsaver lifejackets and deployed the parts to create the sling with easy on-off clips and adjustable 'waistine'.
The velcro fastenings were also re-used on our sail cover which needs new size 10 zips (when we find a supply).
The old jacket fabric was headed for the bin when suddenly the potential for creating such things as courtesy flags was realised.