Thursday about 8am we headed for the shop in Mindelo Marina to see if our welding boy had done his stuff and the exhaust elbow was back in one piece. We have made this trip many, many times before. Ah but there on the floor is a filthy black carbon covered bag. It is…it is…and the 30 minute repair weld is complete on Day 4 in Mindelo.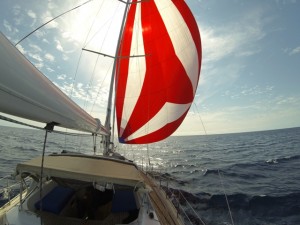 We bolted up, we fuelled up, and by 11.30 we slipped our berth and passed the space to incoming Zenara. We are going….fast. We motored out of the bay and clear of the island ready to select our go fast sails. Wind 11 knots behind. OK it's the cruising chute. So we drag the beast to the foredeck, we wrap the tack line round the anchor stem blocks, round the windlass and secure it. We are working fast; we are at the back….out comes the foot of the sail. Hang on, that looks odd. Does this go here or there? Why is the foot skyward….mmm…ah the tack, the tack, flip it over.. We're ready. Heave! Heave! Up goes the sock on our new dyneema and lower friction blocks at the head of the mast. No winch needed, we are going skyward fast. Take up the slack on the winch. Whoa, whoa. Er…the sheet is tied to the lifelines still. Oh right, down a bit, down a bit. OK we are on the clew, take up the slack, here we go… Whoa, whoa. The sock downhaul doesn't look right. Mmmm looks a bit odd. OK maybe tie the sheet the other side. Down, up…here we go, fast. Whoa, whoa. Nope doesn't look right. Down, re-tie, up we go. The socks airborne, raise the snuffer and let's fly…5.8, 5.9kn..we're off. Fast. About 45 mins from moving the bag to powering up and no drink breaks! Then the fluttering noise starts. 11, 10, 8.5kn and so the wind slips away as the sail folds. Back down, pack it away. Maybe tomorrow. No other sail config. worked so we are motoring in 5-7kn again.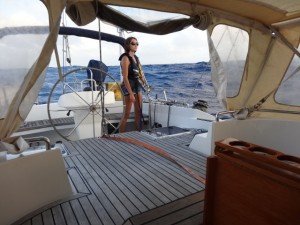 Vital sadistics: After 4 days in Mindelo, 4th from last overall. About 600 miles behind. On corrected time we will probably end up last. From the galley; An orange each. C. 2084nm to go.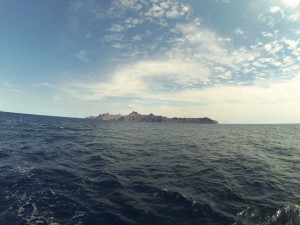 Departing Mindelo