After our first Craig David anchor eviction we had two nights sitting about 100m to the east of our first drop. Our anchor had been tested the first night with peak gusts of 39 knots and on the second with Force 7/8 at 4.30am.
We went downtown and returned to find the firework train had been anchored in daylight (must have been better organisation as on the previous night they tried to locate the small barges after dark and could not find their mooring buoys so were snaking in and out of moored boats – just!) alongside. Yep, we had to move again further east. We are now floating in isolation far to the east of the anchorage but it's a better wifi zone so we are staying put.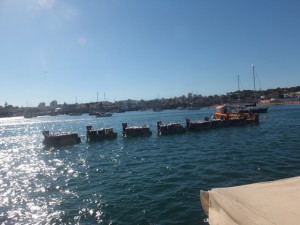 The firework train which when unshackled stretches several hundred feet
Spent last night being entertained by Gerry and Wendy on ARC boat Duplicat along with Heike and Michael from s/v Fantasea.
It's a busy anchorage of about 25 yachts with high turnover; Danish, Swedish, Morrocan, Brazilian, French, UK, Spanish and Portugese yachts to name a few.