On the night of Day 6 we should have been running in 14-17kn northerlies on our way south to Mindelo. But nobody felt like committing to the weather and going up to the bow in complete dark to hand crank the headsail and let out some canvas (or dacron). So we motored south in a following sea and wind to enter Mindelo from the East. Early morning, rounding the point Ponta Salinas on the Island of Santo Antaao whilst trying to get some offing against the east wind and swell to stay clear, I could smell exhaust gas. Shutting the motor and shining a torch into the engine room created a nice thick beam of light – smoke. Looking at the exhaust the elbow clamp had gone (new in Gibraltar!) so it was immediately back to sail to stay to the east. There are shipwrecks all over this coast. We say 'immediately' but of course without headsail furling it was a question of getting on a reach with the main followed by hand cranking the headsail to maintain the offing and get round the point.
Again prior myths about never seeing another ARC yacht proved untrue as we entered the channel between the islands with Sephina of Beaumaris and Windleblo ahead of us. Sephina were in the marina and gave us detailed info about the location and comms. Meanwhile we were able to guide Windleblo, who were without charts for the area, using their AIS position on our plotter; OK turn to port on 160 now, not that breakwater but the next etc. For any future ARC yacht if thinking about AIS don't – just get on and fit a transceiver! We entered the turqoise bay of Mindelo with magical moun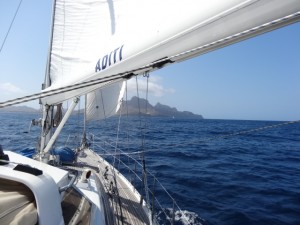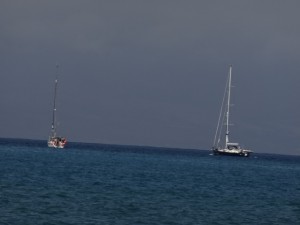 tain scenery, old ships, a few wrecks on the beaches and sounds of children playing. We sailed to anchor and waited whilst ARC yacht Mustique moved out of the marina. Then, located alongside the fuel pontoon we have seen many friends come and go; Silver Slipper, Calypso, True Colours and many more.
The evening of 01/12 was a riot with half the ARC in the pontoon bar. It was so dark that we couldn't see it but we had delicious wahoo & chips with a chilli sauce; well worth pulling in for. Mindelo has a real flavour to it and everyone we meet loves it. The pilots are a bit gloomy about the place but many facts are now wrong. So we are sure it will become a feature in future crossings and we would not think of doing the Atlantic again without a planned stop here. It has more atmosphere than anywhere else we have been.
Vital sadistics: Distance to St Lucia c.2,100 miles
From the galley: Closed! Fruit Vegetables that don't make good cruisers: Papaya, Carrots, Avocadoes Top F & Veg: Mangoes, Apples, Oranges, Potatoes, Sweet Potatoes, Onions
Berthing 50 euro a night (had we an operational engine we would be at anchor) Facilities & security very good. Sailmaker services fantastic. Fuel around 62 pence/litre